We have everything you need to know about attending a Greenville Triumph soccer match!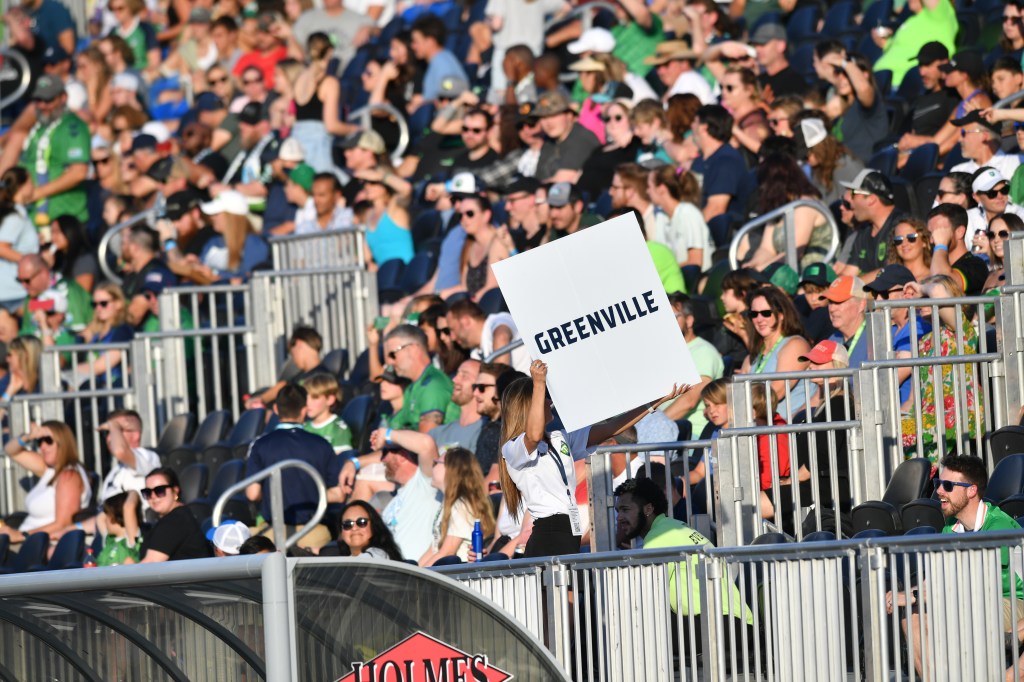 ---
ADA seating/parking
Wheelchair and ADA seating is available in the main grandstands (section 114-118), and is accessible by a ramp. ADA parking is available at each of our parking lots (see map under Parking section).
Alcohol
All guests over 21 years of age who would like to purchase alcoholic beverages can do so at concession stands throughout Triumph Stadium at Legacy Early College. All guests are required to show valid identification and proof of age when purchasing alcoholic beverages. No guest will be served more than two alcoholic beverages at any given time. Alcohol beverage sales will stop at the 70th minute.
No alcoholic beverages can be brought inside the stadium. Any attempt to bring alcohol inside the stadium or possession of an alcoholic beverage not purchased at Triumph Stadium may result in ejection without refund. Guests will not be allowed to enter the stadium if visibly intoxicated. Intoxicated and/or disorderly behavior may result in ejection from the stadium without refund. No alcoholic beverages served inside the stadium can be taken outside Triumph Stadium at Legacy Early College.
Animals
Guide, signal, and service animals are allowed inside the stadium with fans that need their assistance. No other animals are permitted.
Banners, Flags, and Signs
Fans are permitted to bring signs, flags and/or banners into the stadium to show their support of the Triumph. Prior club approval must be obtained in order to bring these items in to the stadium. All items must follow these guidelines:
No profanities or inappropriate language may be exhibited on the sign, flag or banner.
The sign, flag or banner may not block the view of other fans during the run of play.
The sign, flag or banner may not block any sponsorship signage displayed in Triumph Stadium at Legacy Early College.
Any signs, flags or banners that do not follow the above guidelines must be removed or they will be subject to confiscation.
Bicycle Parking
Bike parking is located in the Tailgate Lot on Bramlett Rd.
Ticket Office
The ticket office is located adjacent to the North gate on E. Bramlett Road. The ticket office is only open on match days 2 hours before the match until halftime. Tickets can be purchased on match day at the box office or in advance online through the website. Fees and taxes apply.
Camera and Video Equipment
Still cameras are allowed in Triumph Stadium at Legacy Early College. Lenses exceeding 6" in length and tripods/monopods are not permitted inside the stadium without prior approval. Video cameras are prohibited.
Children
Children under the age of 2 do not need a ticket to attend the match, but must sit on the lap of the adult. Babies in hand-held carriers are allowed, but require a ticket due to taking up a seat.
Clear Bag Policy
Triumph Stadium at Legacy Early College follows a Clear Bag Policy.
Code of Conduct
The Triumph is committed to creating a safe, comfortable and enjoyable experience for all fans. All guests are asked to adhere to the following Code of Conduct:
Fans are encouraged to cheer, sing, and otherwise support their team while remaining respectful and courteous to their fellow patrons, referees, opposing team, fans and players.
Fans enjoy the soccer experience free from fighting, thrown objects, attempts to enter the playing field, political or inciting messages, and disorderly behavior- including foul, sexist, racial, obscene or abusive language or gestures.
Fans comply with requests from stadium staff regarding stadium policies and emergency response procedures.
Fans promptly and carefully return the ball to a stadium staff member or the ball kid on the sidelines if a soccer ball enters the stands.
Alcoholic beverages are consumed in a responsible manner and only by those of legal age.
Fans conduct themselves in a lawful manner to avoid incidents in the stadium and in the parking lots.
Entering the Field of Play without proper access or credentials will result in ejection from the stadium and/or arrest and subject to permanent ban from Legacy Early College.
Throwing objects or liquids of any kind onto the Field of Play or at individuals will result in ejection from the stadium and/or arrest and subject to permanent ban from Legacy Early College.
If someone interferes with your enjoyment of a game, please contact a Guest Services Representative for assistance. Guests who fail to comply with the Code of Conduct are subject to ejection from the stadium without refund. We thank you for your cooperation, and we hope you enjoy your visit to Triumph Stadium at Legacy Early College!
Ejection Policy
Fans that refuse to follow the direction of the Triumph staff or designated security or fail to comply with the Code of Conduct may be subject to ejection without a refund of their event ticket and may lose future ticket privileges.
Entrance Times
Ticket holders are able to enter 60 minutes prior to kick-off. Guests can enter the stadium through either the Bramlett St. or Vance St. Gates. The Vance St. Gate is equipped to accommodate persons with disabilities and wheelchairs. All entrances will close at the 70th minute for entry into the game.
First Aid
A First Aid Station is located behind the Supporters Section (Section 110). Should you need immediate assistance, please find the nearest security person or usher and they will dispatch help to you.
Food and Beverage Policy
Food and Beverages are sold inside the stadium, but fans are not allowed to bring any outside food or beverage items inside Triumph Stadium at Legacy Early College. Please leave these items inside vehicles or dispose of them at the security checkpoint before entering the stadium. The only exceptions are food and beverage items for infants two years of age or younger, though special considerations may also be made for medical reasons.
Lost and Found
Lost and found items should be given to a Guest Services staff member. Lost items may be claimed at the Security Office located at the Southeast end of the stadium which will remain open for 30 minutes after the game has concluded. All items must be claimed within two (2) weeks after the event. Please make appropriate arrangements to retrieve all Lost and Found items. To contact retrieve a lost and found item call 864-203-0565.
Noise Making Devices
Musical instruments or any types of noise making devices not approved by the Triumph are not permitted inside Triumph Stadium at Legacy Early College without prior consent from the Triumph staff. This includes, but is not limited to, items such as whistles, vuvuzelas, air horns, instruments, boom boxes and other electronic sound devices.
Parking
Paid parking is offered by the team in several lots along Bramlett Road. Bramlett Road will be closed to vehicle traffic between Woodside Avenue and Vance Street during match evenings. All lots open two hours prior to kickoff. Please pay the lot attendant upon arrival.
There is also a dedicated Uber/Lyft drop-off and pick-up zone located at the corner of Bramlett Road and North Vance Street.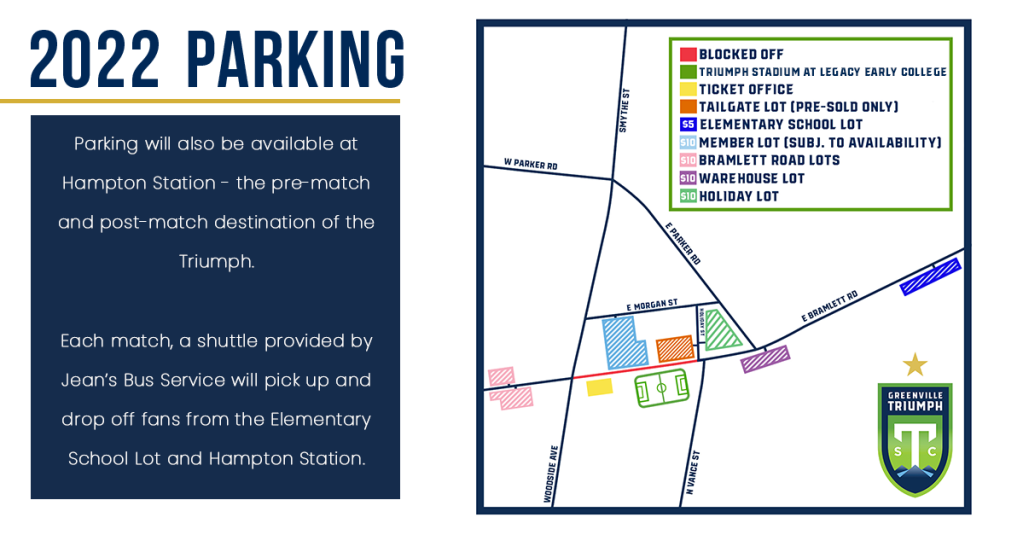 Prohibited Items
Fans are prohibited from bringing the following into the stadium:
Large purses
Strollers
Umbrellas (ponchos will be available for purchase)
Cigarrettes and E-Cigarrettes
Coolers
Briefcases
Backpacks of any kind
Luggage of any kind
Computer bags
Camera bags
Weapons
Fireworks
Illegal drugs or harmful chemicals
Missile or projectile like object
Aerosol cans or pressurized containers
Professional camera equipment
Laser pointers
Hover boards
Remote controlled aircraft (Drones)
Cans, coolers, containers of food or beverages. Empty clear plastic water bottles are allowed.
Noisemakers, plastic horns, air horns, whistles
Pets (except for service animals)
Confetti
Canisters and small punch hole size confetti
Beach balls
Any other items deemed to be inappropriate or dangerous by the stadium staff/security
Anyone with an item that does not pass security measures will be asked to either take the item back to their vehicle or dispose of it.
Reedy River Riot
The Reedy River Riot is an independent supporters group for the Greenville Triumph Soccer Club. The supporters section is located in Section 110.
For information regarding visiting team seats, please contact Stacey at SWise@greenvilletriumph.com or call 864-203-0565 during regular business hours.
Re-entry
Fans may not exit and re-enter the stadium using the same ticket. In the case of a medical emergency, please see a guest services representative.
Smoking
Legacy Early College, including exterior balconies, is a smoke-free and vape-free facility, per City-County General Ordinance No. 44 Sec. 616-201, effective March 1, 2006. Smoking is prohibited in any enclosed public place, including Legacy Early College. Smoking is permitted outside, up to the exterior ticketing checkpoints. Smoking/vaping is not allowed in Legacy Early College parking lots.
Stadium Address
Triumph Stadium at Legacy Early College
900 Woodside Ave
Greenville, SC 29611
Strollers & Umbrellas
Strollers and umbrellas are not permitted inside Triumph Stadium at Legacy Early College. Ponchos will be available for purchase.
Tickets
Tickets can be purchased ahead of time by clicking here. You may also buy tickets at the ticket office on game days beginning two hours prior to kickoff.
Transportation
The Triumph have a designated drop-off and pick-up zone at the Corner of Vance Street and Bramlett Road for fans planning on taking Uber or Lyft to our games.
Visiting Team
For information on how to secure seats in the official visiting team seating section please contact Stacey at SWise@greenvilletriumph.com or call 864-203-0565 during regular business hours.
Weather Policy
Matches can be played during rain provided there is no threat of lightning in the area. Umbrellas are not allowed in stadium, but rain ponchos can be brought in and are sold in the Triumph team store located behind the scoreboard. In the event of severe weather in the area, play will be stopped and fans will be dismissed to their cars until the weather has passed. For the most up-to-date information on any delays and resumption of play, view the Triumph Twitter account (@gvltriumph).
Will Call
Will Call is located at the Ticket Office at the North gate on E. Bramlett Road. Will Call is open on match days two hours prior to kickoff until halftime.