Join Our Team
To view and apply for any open positions, please click the link below and fill out an application!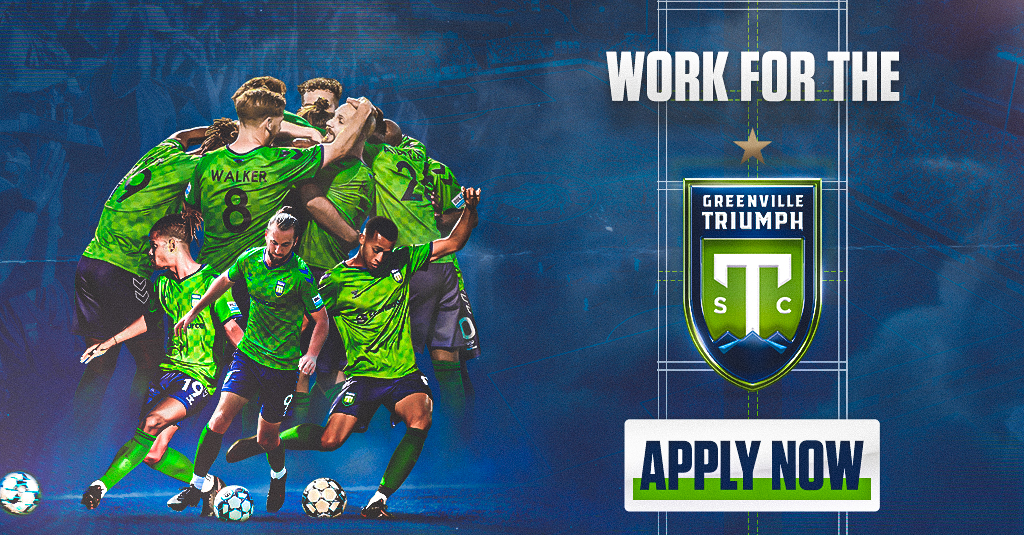 ---
Work in the triumph team store
Have you ever wanted to get paid to be a part of something you love? The Greenville Triumph Soccer Club currently has an opportunity available to do just that! GTSC is looking for reliable, friendly, out-going people to fill part-time positions as Retail Associates working in our downtown team store. These positions are a great way to earn some money while being a part of the Upstate's only professional soccer club! Successful candidates will interact with customers in the team store assisting with merchandise and apparel purchases while also providing outstanding customer service. The Club is primarily looking to fill hours available on Fridays, Saturdays & Sundays.
---
Work Experience Program
The GTSC Work Experience Program (WEP) provides college students with the unique opportunity to gain practical sport management experience in a professional sports team setting. During a designated academic period, participants will work within a specialized department, while interacting with many other departments, with the goal of providing a well-rounded work experience in sports. All participants will have the opportunity for hands-on learning of match day event management during home soccer matches.
All Greenville Triumph WEP Participants must:
Be a current student at an accredited college or university
Be eligible for college credit
Remain available and reliable as scheduled for office hours and home matches
Have a positive attitude with the ability to work collaboratively in a team environment
Be able to understand and follow club policies and procedures
Demonstrate interest in sports business and the basic knowledge of soccer
Participants may be sought during the following semesters:
Spring (Jan-May) Summer (May-Aug), Fall (Aug-Dec);
And to support the following departments:
Ticket & Partnership Sales, Community Relations, Partnership Marketing, Media & Communications
To be considered for the Work Experience Program, please email your resume and cover letter to: WEP@greenvilletriumph.com.
Your cover letter should clearly state your: college and major, ability to obtain college credit, semester available, schedule desire/constraints, preferred department, and a summary of your skills and interests. Your materials will be reviewed and if you meet the qualifications and your skills and interests align with a WEP opportunity, a member of GTSC will contact you to schedule a phone interview.